4 min read
The Real Dirt On Soil Conditions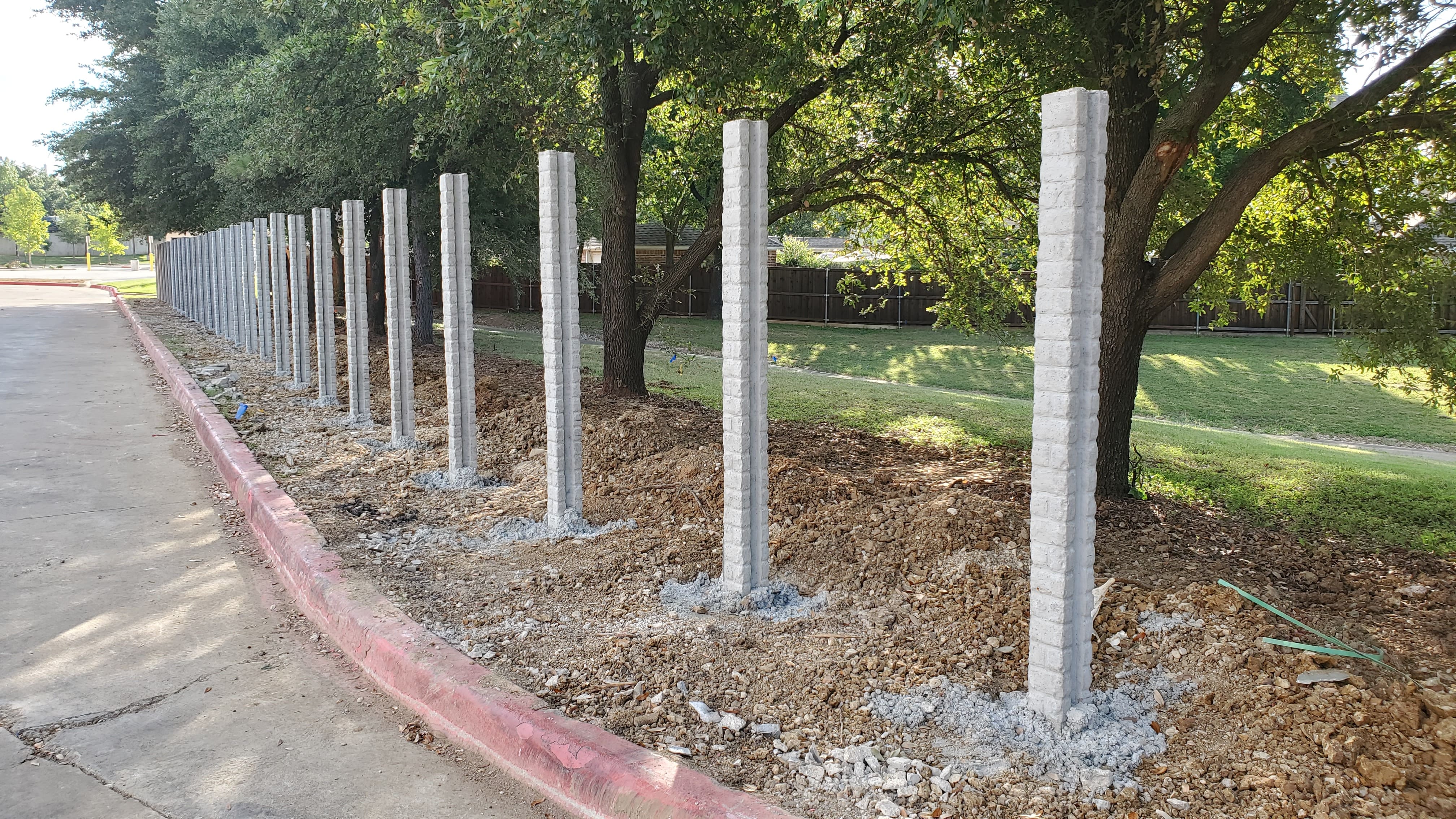 Every one of our precast concrete fence installations presents unique challenges. This requires all of our team members to adapt to each project and put into play unique techniques to suit each project, especially when dealing with soil conditions. So, just how important are soil conditions when installing a precast concrete fence? Short answer: VERY important! When we begin any project, we like to get an idea of the soil conditions on each individual site prior to installation. The soil conditions present to determine the overall depth and width of our piers and will determine where and how much rebar reinforcement is dropped into the piers for additional support. If the soil conditions present are undesirable, it will ultimately affect the stability of the fence structure once it is installed if appropriate measures are not taken to counter any adversity.
There are three main types of soil conditions for most of our sites; sandy soil, loamy soil, and clay soil. We do come across other less common types of soils, such as gravel, chalk, or silty soils. Sand, clay, and silt make up the components of soil. Sand has the largest particles and clay has the smallest. Each of these types will impact how the fence should be installed and will determine what adjustments are made to ensure the longevity and structural integrity of a precast concrete fence.
Contrary to popular belief, sandy soil can work extremely well when installing a precast concrete fence. In sandy soil conditions, each pier is easy to dig, and reaching the desired depth and width is generally never an issue. Our auger and bits are able to quickly and easily reach our required specifications, making quick work of the initial installation process. However, our crews must pay close attention to the environment around them and where they maneuver the equipment and material after drilling because the edges are prone to collapse, especially if the area is dry and has not had any recent rain. We can account for these conditions and our crew's experience will tell them whether they need to increase the width of their piers or if they need to lightly moisten the work area. Moistening the work area slightly will also help ensure compaction is sufficient in sandy soil; once properly compacted, sandy soil is one of the most durable soil types to work with and in.
Just with sandy soil conditions, loamy soil is also easy to work in and with. Piers are easily drilled and this soil provides a very stable environment for the concrete fence to be built in. During dry months, it is unlikely to shrink and during wet months, it still provides adequate drainage. Again, experience and evaluation from our crew may lead us to increase the size of our pier to accommodate for the softness and give to the natural characteristics of loamy soil.
Clay soil is extremely strong, however, it is very dense and can be extremely difficult to work in. Digging in clay soil, especially during the dry months can feel like you are digging into solid concrete, so it may be recommended to slightly moisten the work area so drilling may be a little easier. But be careful not to over-saturate the work area because it does not drain easily and will quickly turn into a muddy mess. This soil will stick to everything around it once wet, including boots, shovels, skid steers, and auger bits. Blackland prairie is one of the most common types of clay soil we experience here in Texas. This type of soil is commonly referred to as "black gumbo" and is prone to shrinking and expansion as it gets wet and dries out and will result in the fence line shifting if consideration is not taken into consideration. Even with proper installation, the fence line may still experience slight shifting over time due to the natural characteristics of this soil, however, the surrounding compaction is high and the integrity of the structure is undeniable!
Texas offers extremely diverse soil conditions depending on the location. While a majority of our installations occur in black gumbo, we do experience gravel, chalk, and silt soils. Soil with gravel and rock is generally present in central Texas, around Austin, and makes drilling piers especially difficult to complete quickly. When we run into these extreme conditions, our experienced crews can shift over to a specialty bit to assist in the process and we can generally adjust the depth and width of our piers to accommodate for the rocky conditions. This works in the favor of the fence because, once built, the gravel and rock in the soil will provide extra stability for the fence post piers. Silt soil is extremely easy to work with and provides a moderate amount of support, however, if the soil becomes wet, it turns to soup. This is a very undesirable trait for any structure, especially a precast fence system, and special considerations and techniques must be employed to maintain the structural integrity of the fence after installation is complete. Another common soil condition that we experience in the central Texas area is chalk. Very rarely do we come across pure chalk content, but if we do, it is extremely difficult to drill through and we must take our time. The hard work pays off in the long run though because this soil provides undisputed support.
When you are ready to install a precast concrete fence, call a contractor that you can rely on to come equipped with the experience needed to successfully complete your project. From our office staff to each member of our crews, we continuously adjust and make improvements to our time-tested methods to make sure we bring the absolute best to each of our projects. Reach out to us today by phone at 903-630-5465, by email at hello@hilltopconcreteco.com, or visit our website at www.hilltopconcreteco.com to learn more about our company, our products, and our installations!