4 min read
Can Your Fence Handle The Weather?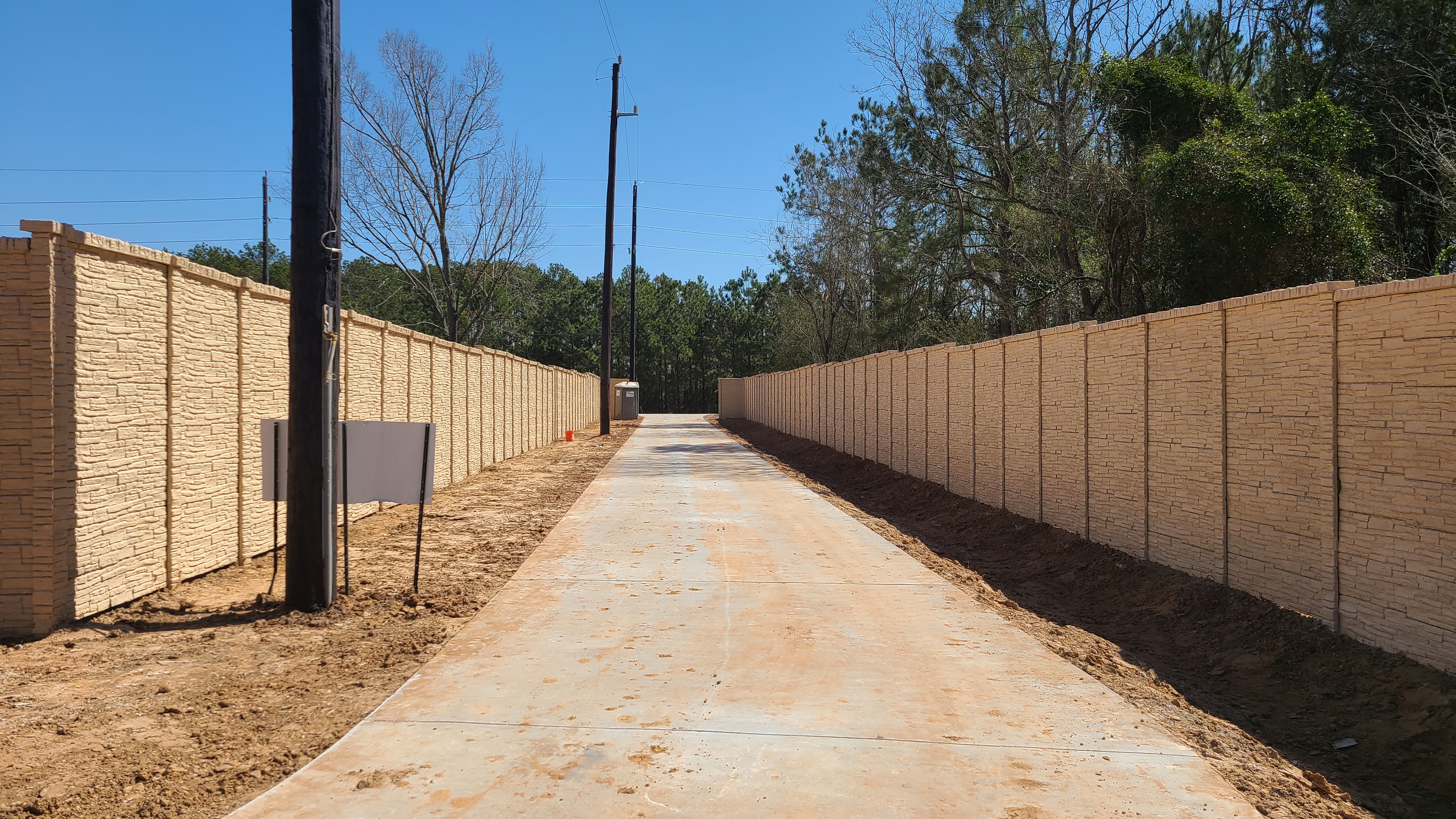 Your fence must confront many foes and rivals in its effort to stay standing. Over the years, it will have to face off against insects, animals, humans, and lawnmowers, but sometimes we fail to consider how a fence will hold up to Mother Nature. If the recent weather has taught us anything, it is that we can expect rain, hail, snow, ice, wind, and the unforgiving Texas sun - sometimes all in the same week! Some fences can withstand these elements and unfortunately, others fall apart and even when some fences can maintain their structural integrity against these elements, they end up losing their aesthetic appeal. Precast concrete fences have proven time and time again that they can hold up to all of Mother Nature's elements while maintaining the structural integrity needed to last a lifetime and remain an attractive feature on any property!
HEAT & COLD
When the temperature drops in wintertime, some fences become brittle and less flexible. When this fragility is combined with pressure, the fence may crack or break. In addition, some fences expand in hot temperatures, which can lead to damage if the fence isn't flexible enough to allow for some expansion and contraction. It can also cause the fence to warp, which can pull the boards off of their fasteners. With a precast concrete fence, even the extreme Texas heat and unpredictable cold weather do not pose risks to the structural integrity of the fence structure.

SUNLIGHT
The impact of weather on fencing extends to beloved features of nature as well, like sunlight. You might love to bask in the sun's rays on summer days, but some fences can become discolored or degraded if subjected to ultraviolet (UV) rays. Wood fences, for instance, are known to quickly fade due to sunlight. The inherent strength of concrete means that a precast concrete fence will never warp or fade in the intense summer sun. In turn, this proves to not only be a maintenance-friendly fencing solution but also a cost-saving solution down the line!

MOISTURE
When water is allowed to sit on a permeable material, it can create mold, mildew, or rot. Wood fences are particularly susceptible to moisture damage. A soft-feeling fence can be an indication of rot and will then need to be replaced and any small holes or cracks in your fence should be patched with putty. The natural characteristics of concrete means you never have to worry about rot and with a simple cleaning, any potential mold or mildew can be washed away without causing wear or tear to a precast concrete fence. Additionally, traditional masonry features rely primarily on the mortar they are set with for their structure and stability. Over time, this mortar begins to crack and deteriorate and any moisture that is introduced into these cracks will eventually lead to damage and the ultimate decline of the structural integrity of a masonry wall. With Hilltop's precast systems, cracking and deterioration are not a problem because our systems are made of 5,000 PSI strength concrete that is not impervious to water or susceptible to other elements.

SNOW & ICE
Snow, of course, presents many of the same drawbacks as rain, sleet, and other forms of moisture. When the weather warms and the snow melts, mold, mildew, and rot are a possibility. Additionally, snow and ice can place a lot of pressure on a fence if they accumulate on the top. For some fences, the weight of accumulated snow or ice can cause sagging, warping, or cracking. Because our precast concrete fence components are manufactured with reinforcing rebar integrated into each component, the additional weight of these weather elements never has to be a worry.

HAIL
If you have ever experienced golf ball-sized hail, you know how destructive the elements can be. In addition to roofs and cars, hail can target fences and create unattractive marks or even go right through them, ultimately destroying the whole fence. Again, wood, vinyl, and aluminum fences are quite susceptible to this type of damage but not concrete! Our precast concrete fences provide the strength that can withstand some of Mother Nature's worst elements and come out completely unscathed.

WIND
Although moderate winds shouldn't be a problem for most fences, very strong winds can push a fence over. To this end, look for a fence that is structurally sound and composed of sturdy material and the construction must be matched with proper installation if you want your fence to withstand the wind. With a precast concrete fence system from Hilltop Concrete, our precast concrete fence components, coupled with our tried and true installation methods mean that wind is rarely an issue for our systems. Remember that wind can blow dust, leaves, grass, etc. against your fence. To avoid damage or strenuous maintenance, a precast concrete fence provides low maintenance that can be cleaned effortlessly.

The impact of weather on fencing can be significant. Most fences are designed to withstand the elements, but some materials, such as precast concrete fence components, are stronger and more reliable than others. They are engineered to resist a variety of damage caused by extreme weather conditions, including corrosion, fading, rot, mildew, mold, sagging, peeling, chipping, rusting, and discoloration. In the event a repair ever needs to be made, repairs are extremely easy to complete due to the modular design of all of our precast concrete fence systems.

If you are interested in learning more about Hilltop Concrete or any of our precast concrete fence systems, be sure to check out our website, send us an email at hello@hilltopconcreteco.com, or reach out to our office at 903-630-5465. We look forward to speaking to you about your project and will be happy to help you select a fencing system that fits your needs!